Aims and scope
Visual Computing for Industry, Biomedicine, and Art (VCIBA) aims to serve as a publication and communication platform for researchers in computer image, graphics and visualization.
The scope of the journal mainly consists in three fields. VCIBA publishes articles that focus on, but are not limited to, the following areas:
Industrial fields:
Computer vision, computer graphics, computer geometry, image processing and analysis, visualization, virtual reality, human-machine graphic interaction, CAD/CAM/CAE
Biomedical fields:
Molecular imaging, metabolic imaging, functional imaging, structural imaging, multimodality imaging, biomedical/medical image processing, biomedical/medical image analysis, radiomics
Art and design fields:
Visual arts, artistic design, computational design, animation, architectural design, generative art, aesthetic visual computing
Call for Papers
Thematic Series: AI-based Image Analysis
Submission Due: 30 March 2023
Guest Editors:
Dr. Chuang Niu, Rensselaer Polytechnic Institute, USA
Dr. Ge Wang, Rensselaer Polytechnic Institute, USA
Article Collections
Photoacoustic imaging: microscopy, tomography, and their recent applications in biomedicine
Guest Editors
Puxiang Lai, The Hong Kong Polytechnic University, Hong Kong, China
Liming Nie, Guangdong Academy of Medical Sciences, China
Lidai Wang, The City University of Hong Kong, Hong Kong, China
Guest Editor
Zhengrong Jerome Liang, State University of New York, USA
Honored Editor-in-Chief: SUN Jiaguang

Sun Jiaguang serves as Academician of the Chinese Academy of Engineering, professor of Tsinghua University, and president of China Graphics Society. He acted as deputy president of the National Natural Science Foundation of China, chair of Tsinghua National Laboratory for Information Science and Technology, dean of the School of Information Science and Technology of Tsinghua University, dean of the School of Software of Tsinghua University. Currently, he is professor at Tsinghua University, deputy chair of Tsinghua Academic Committee, chair of the Software Engineering Teaching Steering Committee under the Ministry of Education, chair of the National Engineering Research Center for Enterprise Information Software Systems, chair of National Engineering Laboratory for Big Data Software, and chairman of the China Graphics Society.
Sun Jiaguang has long been engaged in the teaching, research, and development of computer graphics, computer-aided design, software and systems modeling, analysis and verification, and software engineering and systems.
Editor-in-Chief: TIAN Jie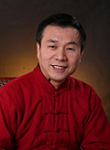 Jie Tian is a professor in Beihang University. His research interests are in the medical image process and analysis, pattern recognition. He has published more than 200 research papers in peer-reviewed journals and served as a technical reviewer for several IEEE publications, such as IEEE TMI, TPAMI, TIP, IJBHI (TITB), and TBE. Due to the research and development of the 3D medical imaging processing and analyzing system (3DMed), he won the National Award for Progress in Science and Technology in 2003, and also won the National Award for Progress in Science and Technology in 2004 for the system and application of fingerprint recognition, and he is also a winner of the 2010 National Award for the Technological Invention of the imaging method and system for small animal multimodality optical molecular imaging, and he won the 2012 National Award for the Technological Invention for the algorithm and system of fingerprint encryption. He also won the Prize for Scientific and Technological Progress of Ho Leung Ho Lee Foundation in 2012. Dr. Tian is also the Fellow of the IEEE, AIMBE, IAMBE, IAPR, SPIE and Beijing Chapter Chairman of IEEE Engineering in Medicine and Biology Society (EMBS) and deputy director of China Automation Recognition Society.
Good News: VCIBA has been selected for inclusion in the ESCI, Web of Science!
We are pleased to announce that Visual Computing for Industry, Biomedicine, and Art (VCIBA) is now included in the Emerging Sources Citation Index (ESCI), Web of Science. All articles published after 1 January 2018 will be included in the database, and will therefore be searchable in Web of Science soon.
We would like to take this opportunity to thank all the authors, reviewers, readers and editorial board members for their continuous support to the journal, and making this exciting development possible.
The journal Editor-in-Chief Prof. Jie Tian also wrote a message to the public.
Affiliated with
China Graphics Society (CGS) is a national, academic, and non-profit organization. It's founded in 1980 and is affiliated to China Association for Science and Technology. CGS gathers a large number of renowned experts, scholars and science and technology in realm of graphics, with a membership of over 100,000 people. CGS is one of the initiators of International Society for Geometry and Graphics (ISGG), and is its group member. CGS has actively assigned delegations to attend the international Conference on Geometry and Graphics (ICGG) held by ISGG and successfully hosted ICGG in China for many times.
Annual Journal Metrics
Citation impact
0.711 - Source Normalized Impact per Paper (SNIP)
3.7 - CiteScore (2021)

Speed
27 days to first decision for all manuscripts (Median)
38 days to first decision for reviewed manuscripts only (Median)

Usage
134,227 downloads (2021)
The journal is indexed by
Emerging Sources Citation Index (ESCI)
EI Compendex
SCOPUS
PubMedCentral
DBLP
Dimensions
DOAJ
EBSCO Discovery Service
Google Scholar
Institute of Scientific and Technical Information of China
Naver
OCLC WorldCat Discovery Service
ProQuest-ExLibris Primo
ProQuest-ExLibris Summon
ACM Digital Library
WTI Frankfurt eG
CNKI
TD Net Discovery Service
ISSN: 2524-4442 (electronic)